While known for the natural beauty - the beautiful marshes and expansive beaches - the Golden Isles is also known as a golfer's paradise. Offering golf enthusiasts some of the most quintessential golf experiences in the country, area courses, clubs and teaching schools do not disappoint. Top that off with the yearly fall PGA Tour event - the RSM Classic - and you can see why golf enthusiasts and pros flock here. Currently, close to 20 Tour players call the Golden Isles home!

Some favorites include:



The King and Prince Golf Course
An award-winning course, The King and Prince Golf Course is renowned for its eye-catching island holes, large salt marshes, and age-old forests. As you make your way through the course, you will see ancient oaks and spectacular lakes and lagoons. The 9th hole is even famed for its tremendous lake that is overlooked by the Clubhouse.

Each green and fairway on this ambitious 18-hole course has pristine Bermuda grass. The King and Prince Golf Course also features a practice facility that includes a mini-verde putting green, mini-verde chipping green, and five target greens.

Located on the northern end of St. Simons Island, the course is part of The King and Prince Beach & Golf Resort. The course itself is 12.2 miles from the resort, but transportation is available for guests.

The King and Prince Golf Course is home to The Hampton Club and Clubhouse, which is known for its Southern hospitality. The Clubhouse also features a restaurant, beverage and snack cart, locker rooms, pro golf shop, and PGA-certified classes.

The King and Prince Golf Course has received numerous accolades since its opening in 1989. The course has received awards from GolfAdvisor, TripAdvisor, Golf Digest, and Elegant Island Living. As one of Georgia's premier golf courses, The King and Prince Golf Course offers a truly spectacular golfing experience.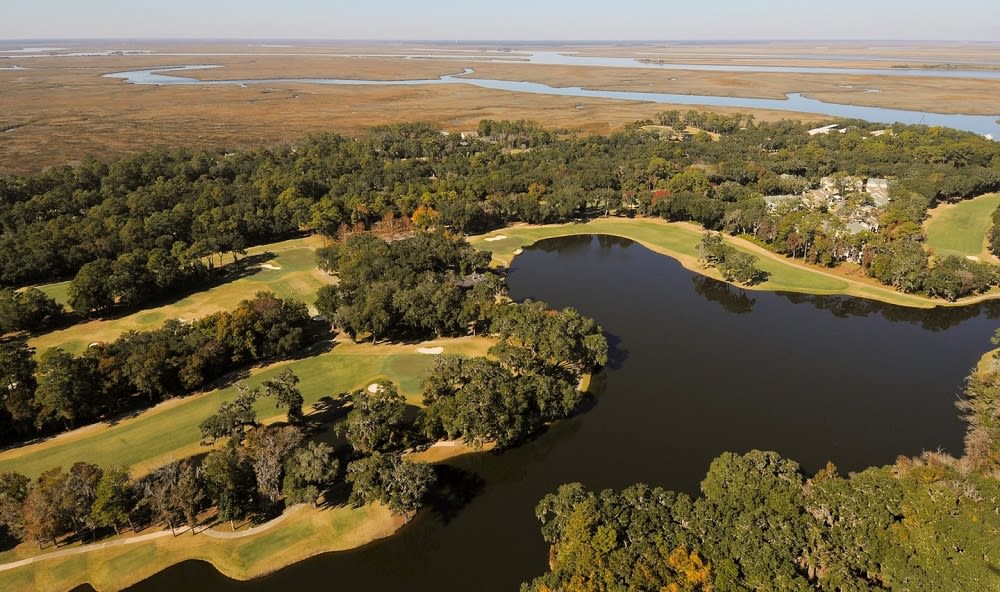 Photo: The King and Prince Beach & Golf Resort



Jekyll Island Golf Club
Known for its renowned landscapes, the Jekyll Island Golf Club is Georgia's largest public golf course. The golf club has three 18-hole courses — Pine Lakes, Indian Mound, and Oleander — and a famed nine-hole course named Great Dunes. Each course features immaculate forests, marshes, and lakes, and some even boast unparalleled ocean views. There are very few man-made features at Jekyll Island Golf Club, so players may even catch a glimpse of wildlife like deer, osprey, and alligators.

Created by club members in 1898, the Jekyll Island Golf Club was the first golf course built on the island. Today, Jekyll Island has become one of the most popular golf destinations in the country and is visited by acclaimed golf players from all around the world.

The Jekyll Island Golf Club offers lessons and tournaments to golfers of all ages and abilities. Lessons are taught by the Club's PGA-certified Golf Pro and Apprentice instructors and include private, group, and playing lessons, as well as a three-hour learning program.

With its historic and serene courses, Jekyll Island Golf Club has something for golfers of all skill levels to appreciate and love.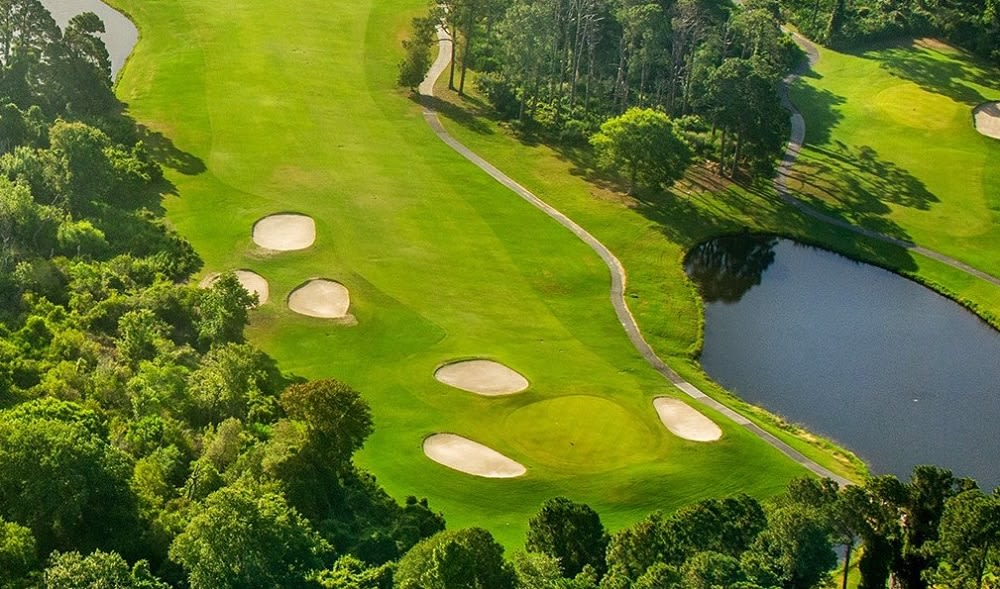 Photo: Jekyll Island Golf Club



Sea Island Golf Club
For championship golf courses and highly trained instructors, visit Sea Island Golf Club. The Club has three stunning 18-hole courses — Seaside, Plantation, and Retreat — that are consistently ranked among the top 100 golf courses in the country. Sea Island Golf Club is a part of Sea Island, which is a luxury Forbes Five-Star resort. Due to its exclusive nature, you must either be a club member or resort guest to play at Sea Island Golf Club.

Sea Island Golf Club's most famed course is the Seaside Course, as it is home to the PGA Tour's RSM Classic. This tournament has been played in Georgia every autumn since 2010 and is hosted by PGA Tour professional Davis Love III. It is at Sea Island Golf Club that this famed PGA Professional learned to golf. The Seaside Course lies next to the ocean in a traditional Scottish Links style and is surrounded by beautiful dunes, grasses, wildflowers, and bunkers.

New teeing areas and practice greens have recently been added to the Club, as well as a Golf Performance Center. This state-of-the-art facility features chipping greens, covered hitting bays, putting greens, an indoor putting lab, and a GEARS studio for 3D swing analysis. You can also learn from three of Golf Digest's Top 50 Teachers at the facility, along with top-of-the-line swing instructors, club fitters, fitness instructors, a putting instructor, and a mental health coach. Sea Island Golf Club even has a fun, 18-hole putting course that was created by Davis Love III and his brother Mark Love.

For a luxurious, challenging, and exclusive golf experience, Sea Island Golf Club is the perfect place for golfers to learn and play.


Photo: TripAdvisor



Brunswick Country Club
The Brunswick Country Club is touted as one of the best golf clubs in the Southeast. This private club was created in 1938 by esteemed golf course designer Donald Ross. The course has been renovated since then, though the original design by Ross remains intact. It has been said that the Brunswick Country Club is one of the most genuine Ross designs in the United States.

The Brunswick Country Club has also hosted the annual Golden Isles Invitational Tournament every year since its inauguration in 1949. The Tournament has gained notoriety over the years and has attracted many famous golfers such as Steve Melnyk and Davis Love III. The Golden Isles Invitational Tournament even became so popular that there is now a separate event specifically for seniors. Brunswick Country Club hosts the annual Golden Isles Scratch Four-Ball as well. In this format, two golfers partner up and each plays their own golf ball throughout the course. Then, the lowest of the partners' scores is taken and counted as the team score at the end of each hole.

With its long-standing traditions, Donald Ross design, and annual tournaments, the Brunswick Country Club is a Gold Isles gem.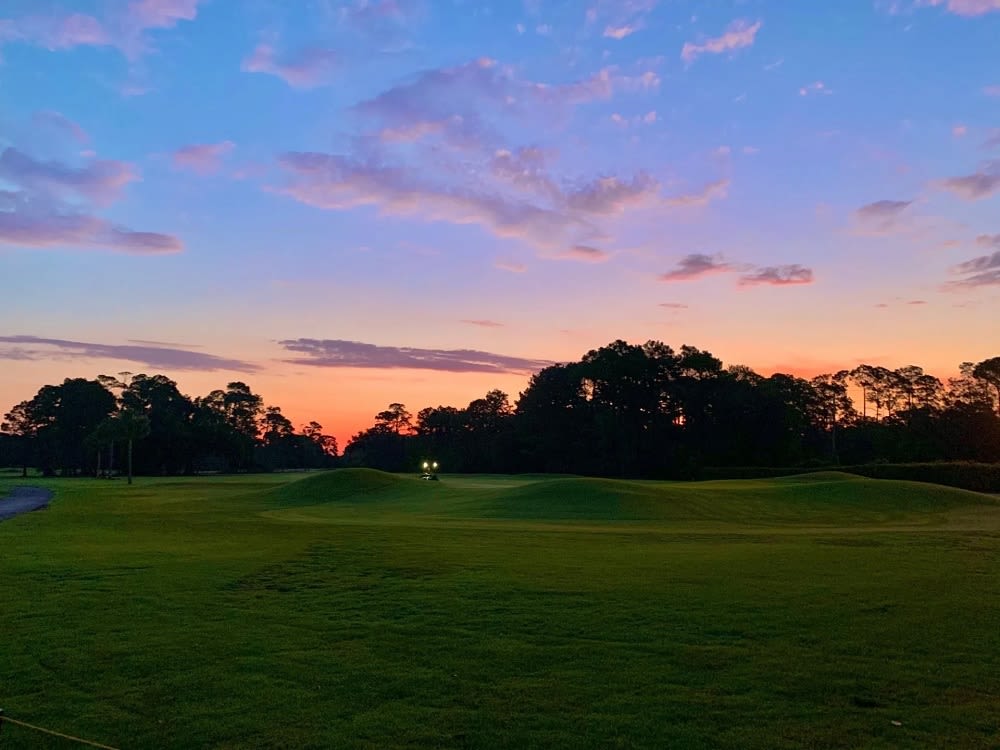 Photo: Brunswick Country Club



Heritage Oaks Golf Club
For well-manicured greens, views of the Buffalo River, and raised tee boxes, head to Heritage Oaks Golf Club. Situated on Oak Grove Island just outside of Brunswick, this majestic course is a hidden treasure in the Golden Isles.

Heritage Oaks Golf Club prides itself on providing a first-rate golfing experience, all the way from its golf amenities to professional staff. After finishing the course, you have the chance to give it one more go at the island green 19th hole. Then enjoy a post-golf meal or beverage at the Club's full-service restaurant and bar.

If you want to perfect your golf game, head to the Club's shop for some of the best golf gear. Or, take a golf class led by PGA Professionals and learn how to fine-tune your swing or enhance your putting shots. Instruction options include private classes, group lessons, golf clinics, on-course instruction, and a junior golf program.

Heritage Oaks Golf Club has the perfect mix of Scottish Isle links and natural Georgia coast marshes for an unforgettable backdrop during a round of golf.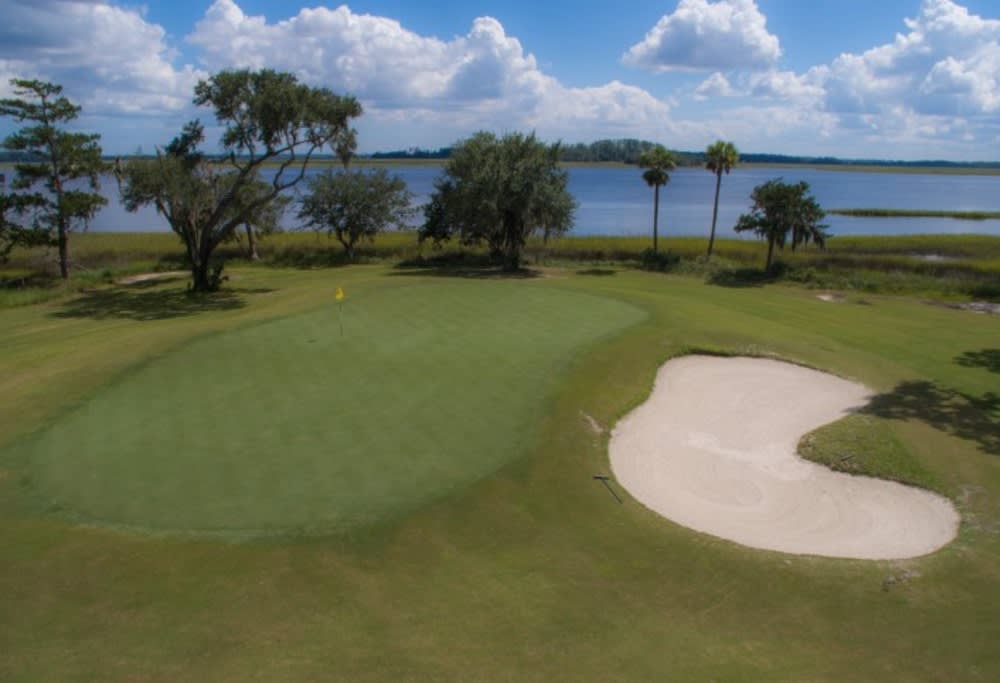 Photo: Heritage Oaks Golf Club



Sea Palms
The stunning Sea Palms Resort, located along the iconic salt marshes of the Golden Isles, has been a golfer's paradise since 1967. The Resort offers comfortable accommodations for out-of-town guests in the Sea Marsh Coastal Lodge and the Sea Gate Inn, and diners can enjoy a delicious meal of coastal-inspired cuisine at Sago at Sea Palms.

But, of course, the main attraction is the 18-hole George Cobb-designed golf course, recently renovated to provide a challenging and rewarding golfing experience. If you're looking to brush up on your game, the professional staff at Sea Palms offers private and group lessons. Members at Sea Palms enjoy a variety of great amenities, including unlimited rounds of golf and access to the Miracle, the members-only game practice facility. Come for the golf but stay for the views, which include magnificent live oaks, towering pines, and marshes and lagoons.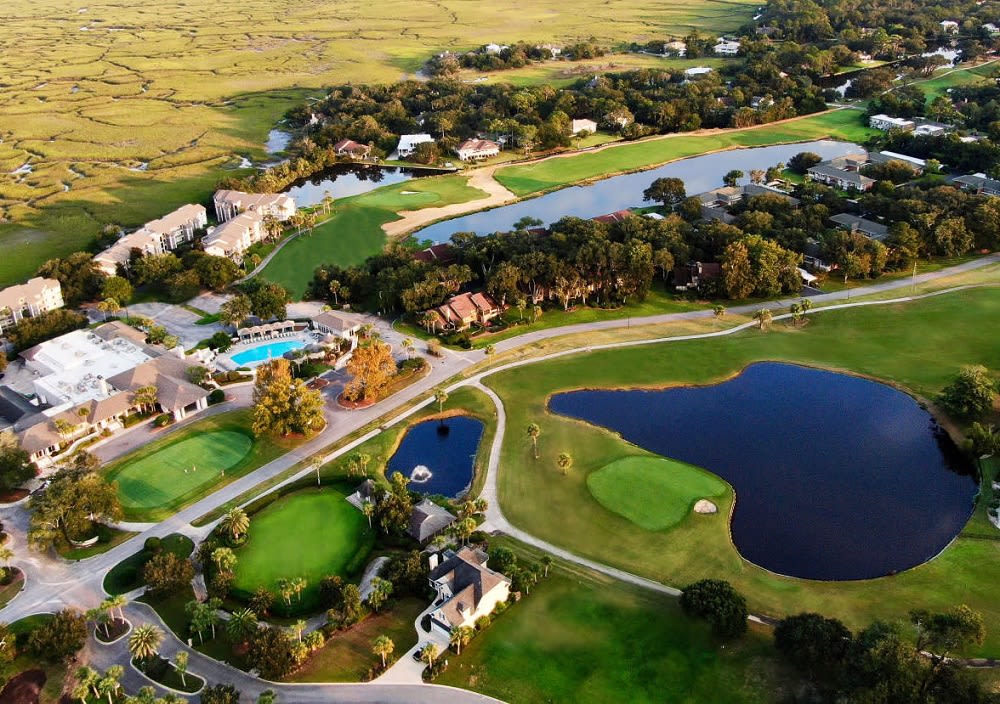 Photo: Golden Isles



Golden Isles Real Estate
If you are interested in buying or selling a home in the Golden Isles, I'd love to help you out! Give me a call at 912-266-2650 and I am happy to help you find the perfect primary home, vacation home or investment property whether you are looking for a golf course view, marsh view or ocean view. Having lived in the Golden Isles for over 40 years, let me put my marketplace knowledge to work for you.