One doesn't need a greeting card holiday once a year to profess and show their love for their significant other. All you need is a date night out in Sea Island or St. Simons, Georgia.


Indeed, there are few things more romantic than spending time with the love of your life on an island a few steps from the serene waters of the Atlantic Ocean.


Nothing short of bucolic, time seemingly stands still along this celebrated stretch of Georgia's majestic coastline. Affectionately known as The Golden Isles, this gorgeous coastal enclave includes four stunning barrier islands — St. Simons Island, Sea Island, Little St. Simons Island, and Jekyll Island. Between these seaside slivers of land and the mainland gateway city of Brunswick is a collection of rivers and waterways unfurling over placid, protected marshland.


As you might expect, such a magical place does lend itself to creating a memorable night out. Where to go, and what to do? Or, more importantly, where to go and what to eat? We'll answer these questions as we explore date night destinations near
Sea Island Real Estate
and St. Simons.
Dining out in The Golden Isles

Let's be honest, date night begins and ends with a great meal at a fantastic restaurant. It doesn't always need to be fancy and romantic for you and your date to have a wonderful time together, but you do need delicious food and a warm, welcoming atmosphere.


These five outstanding eateries feature a cross-section of what's available along the Georgia coast. More importantly, they represent some of the best places to dine in The Golden Isles.


First up is
Delaney's Bistro
, a cozy, high-end restaurant located in the heart of St. Simons Island. Featuring an upscale take on the classic American Bistro, Delaney's is popular for its creative flair and menu featuring steaks, tapas, and of course, fresh local seafood. It's quaint and charming without being pretentious and is a wonderful option for those seeking an intimate night out.
If you want to do date night right in an island locale, it's a wise idea to seek out someplace with a view — preferably one of the ocean. Well, let us introduce you to
ECHO
. Located just off the lobby of The King and Prince Beach and Golf Resort on St. Simons Island, the contemporary eatery offers the island's only indoor-outdoor dining area. Stunning, panoramic views greet you and your date, and the well-crafted plates and relaxed, informal vibe create the perfect atmosphere.
Our next restaurant requires no introduction to locals, who've had the pleasure of dining at
Halyards Restaurant
for more than 20 years. Halyards is committed to a fresh take on several classic dishes using primarily local ingredients, serving creative American cuisine. The seasonal menu means there's always something new to discover, which will make the adventurous, food-loving couple very happy. Halyards is accentuated by a lively, sophisticated dining room and a stately one-of-a-kind bar.
Head toward the southernmost point of St. Simons Island and the St. Simons Island Pier, and you'll encounter the exceptionally unique
Palmer's Village Cafe
. Palmer's is perfect for couples who prefer date day over date night. It features a comfortable beachside aesthetic that fits perfectly within its Village on St. Simons Island location. Ideal for a shared meal when the sun's up, Palmer's offers excellent breakfast and lunch menus and is a favorite of the local brunch crowd.
Though we will feature our next restaurant's home hotel, The Cloister, a bit later, we just couldn't wait to praise the outstanding Italian fare offered by
Tavola
. Housed in a fun and festive open dining room that feels like an upscale pizzeria, Tavola is a Sea Island favorite among locals and visitors alike. There is something for everyone with a classic menu featuring homemade pasta, fresh seafood, and authentic hand-tossed pizza pies. You can eschew the dining room for porch or garden courtyard seating while sipping from a wine selection representing 20 Italian wine regions.
Activities for two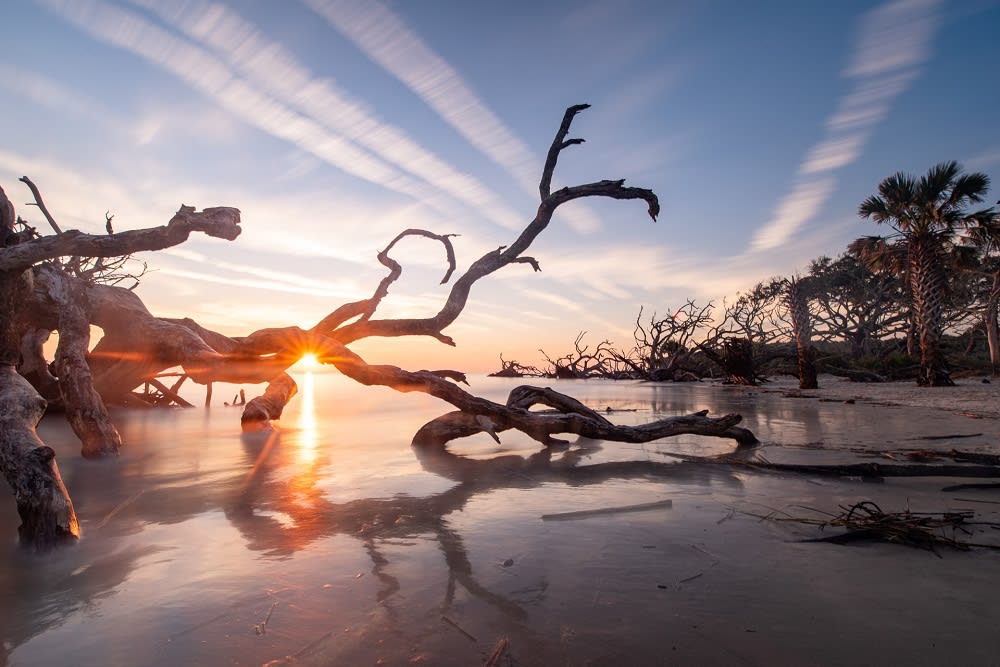 Before or after the meal, date night usually involves some type of activity. Those in The Golden Isles of Georgia tend to skip the movie in favor of more natural entertainment.
From beaches to horse stables, lighthouses, and a few more unique treats in between, Sea Island and St. Simons are ideal spots to escape the norm. Whatever you choose to do, it will be a date night you won't forget.


Our first mention of Jekyll Island is a good one, considering it's home to the gorgeous and atmospheric
Driftwood Beach
. Situated at the north end of the island looking towards the Atlantic, Driftwood is one of the most picturesque and photogenic beaches anywhere along the southern Atlantic Coast. The beach is littered with trees, both upright and not, and they cast dramatic profiles and silhouettes against Driftwood's windswept sands. Although sunsets here offer a marvelous display of nature's splendor, the sunrises are worth waking up early every day to catch a glimpse of their awe-inspiring beauty. For the couple seeking the perfect selfie or an Instagrammable moment, Driftwood Beach is a stunning spot to capture the love.
Speaking of trees and lovers and places to celebrate your affection for one another, head to the mainland town of Brunswick to catch a glimpse of
Lover's Oak
. This ancient tree (some estimate as much as 900 years old, but a plaque on site puts it at least 235 years old) is a sight to behold. Said to have been a meeting point for lovers dating back to the 12th century, it's a beautiful piece of natural history that welcomes everyone to add their own declaration of love while standing in the shade of its stout, outstretched branches.
Few things better define the romanticism of a secluded coastal enclave than that of a lighthouse. A mix of seaside charm and admirable maritime service, the
Simons Island Lighthouse
and Museum offers guests a chance to explore the lighthouse (including a visit to the top) and adjacent museum housed in the Victorian keeper's dwelling. There's a richly poetic history worth uncovering here, including the area's origins and its relationship with the sea. Couples that appreciate the cerebral and enjoy dates filled with equal amounts of love and knowledge will fall in love with the Simons Island Lighthouse.
There's also something inherently romantic about horseback rides across long stretches of beach with no one around to disturb you and your date.
The Stables At Frederica
are more than happy to indulge your equestrian romanticism. Located on St. Simons Island, the enchanting, rustic setting only adds to the mystique that comes from transversing the beach atop one of nature's most majestic creatures. The Stables also offer treks on horseback through the barrier island marshes or on trails that meander through the island's maritime forests, both of which provide their own level of peace and serenity. This is truly a unique experience with memories to last a lifetime.
Extend your date night
Finally, why just enjoy one date day or night when you can make it two, three, or even more? Sea Island and St. Simons feature several comfortable, well-appointed hotels ideal for any couple wanting to extend their stay amongst the beauty and peacefulness of The Golden Isles.


Two hotels, in particular, capture the magic that brings so many romantics to these shores. Each one is a worthy spot from which to embark on your date-filled weekend.


Arguably the most captivating of the area's upscale hotels, the elegant, The
Cloister
is precisely what you'd imagine a classic seaside resort to be. Extravagant luxury greets you upon arrival and doesn't let go for the duration of your stay (and even many, many days after). Situated on its own 50-acre island surrounded by a stunning natural habitat of marshes and rivers, Cloister guests have five miles of private coastline, three championship golf courses, and
The Spa at Sea Island
. If you want the whole Sea Island and St. Simone experience, we suggest an oceanfront room and private balcony at The Cloister Beach Club.
Finally, for those seeking the ultimate seclusion and a special connection to unapologetic luxury,
The Lodge at Sea Island
is the pinnacle of indulgent, boutique accommodations. Located on the southern tip of St. Simons Island, The Lodge is tucked away from the rest of the island, behind the Avenue of the Oaks and overlooking Saint Simons Sound and the Seaside Golf Course. With only 43 guest rooms visiting at any given time, you might as well have the whole property to yourself, including the oceanfront pool, 18-holes putting course, and the 24-hour butler service.
Ready to explore the best of Glynn County real estate?
Contact Victor Long today
to start your home buying or selling journey. From Sea Island real estate to St. Simons homes for sale, allow Victor and his years of experience and expertise to be your guide to coastal Georgia's luxury real estate market.