Situated on Georgia's Atlantic coast, the Golden Isles are known for their breathtaking beauty and shimmering waters. The four islands of St. Simons, Sea Island, Little St. Simons Island, and Jekyll Island are located between Savannah, Georgia, and Jacksonville, Florida, and are connected by the historically rich mainland city of Brunswick, Georgia.
With expansive beaches and an exciting array of attractions, the Golden Isles is a great vacation spot for young and old alike. It is also the perfect place to raise a family, own a second home or retire. Here, you can discover a plethora of charming boutiques, first-class dining experiences, and a vibrant history that goes back generations. From its incredible beginning to the gorgeous tourist destination it is today, here are eight intriguing facts to deepen your knowledge about the Golden Isles.
1. The name originates from the Isles' natural beauty.
The story of how
The Golden Isles
received its name is a fascinating one. Spanish explorers came to the islands over 400 years ago. They were seeking riches and gold. What they found instead were four islands of mesmerizing beauty. With the golden sunsets melting over the sparkling waters, golden-brown beaches, and a vibrant array of colors, it is easy to see why the islands earned this moniker.
However, this name did not officially come about until the year 1717. A Scottish man named Sir Robert Montgomery wrote about the islands to a group of Londoners and asked for funds to begin a settlement. In these lucrative petitions, he used the phrase "the Golden Islands" and described their stunning beauty in detail. He also spoke of promised wealth that would be discovered and possessed there. While these treasures were never found, the Isles earned their well-deserved reputation of being a golden destination.
2. Indigenous peoples had a tremendous impact on the Isles' development.
Long before the Spanish explorers stepped foot onto the islands or nobleman Sir Robert Montgomery wrote about them in his letters, the land was inhabited by Native Americans. The Macoma and Guale tribes made their homes on St. Simons Island. Here, they planted and harvested vegetables and fished.
An Indigenous woman named Coosaponakeesa heavily influenced Georgia's development. She was born around 1700 in Coweta, Creek Nation to her Creek Nation mother and English father. As she grew older, Coosaponakeesa became an avid interpreter and excellent tradeswoman. She was renowned for her understanding of business and culture. Later, she changed her name to Mary and married an Englishman named John Musgrove. Throughout her life,
Mary Musgrove
made a significant impact through keeping the peace, negotiating trading, and establishing several trading posts.
3. The Golden Isles have a nickname: the Land of Five Flags.
The Isles are known as
The Land of the Five Flags
because of the five national flags which have flown over them. In 1526, the Spanish explorer Lucas Vázquez de Ayllón arrived on the shore with 600 settlers. This colony was short-lived and ended with rampant disease, starvation, and a general lack of supplies and resources. In its entirety, the settlement lasted only three months.
Years later, in 1562, a band of French Huguenots arrived, seeking refuge from the tumultuous conditions of their country. The British came to the islands in 1736. They built and established Fort Frederica to guard against conflict with the Spanish. Remnants of this fort are still standing today.
Years passed, during which both the United Kingdom flag was raised and the first American flag was put in its place. As the Civil War raged on, the American Flag was replaced with the Confederate Flag. in 1862, Union forces regained control of the area, and the American flag once again found its place there.
4. St. Simons Lighthouse is one of the Isles' major tourist destinations.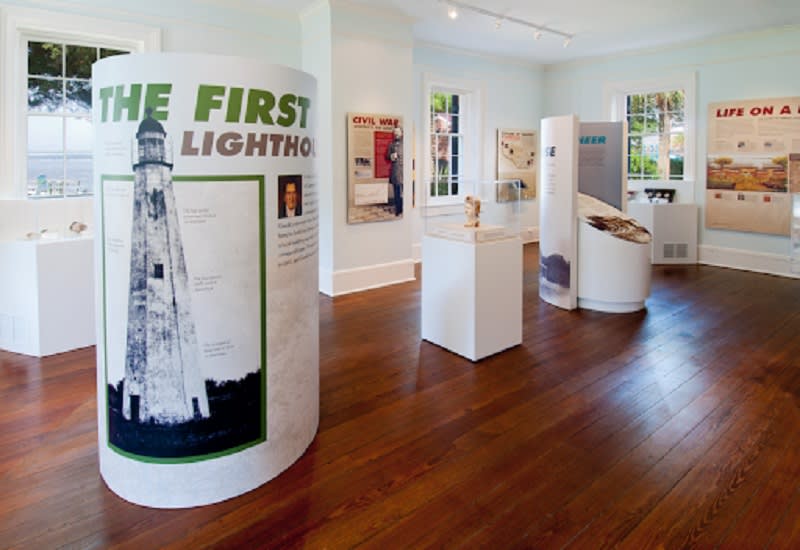 Credit: St. Simons Lighthouse
One of the biggest tourist attractions on the Isles is that of St. Simons Lighthouse. Built in 1868, this lighthouse replaced the original one, which was destroyed by Confederate troops who wished to keep it out of the Union army's hands. Next to this legendary lighthouse is a simple dwelling which was a generational home to the lighthouse keeper and his family.
Construction began in 1804 when John Gould bought the land to build a lighthouse on its premises. It was 75-feet tall and had a 10-foot tall lantern room. After it was finished, Gould was officially made the first lighthouse keeper per the instructions of President James Madison.
As the Civil War continued, Confederate troops blew up the lighthouse so that Union forces could not use it. Years later, the present lighthouse was crafted by architect Charles Cluskey and engineer Orlando Poe. It stands at 104-feet tall.
Today, the Lighthouse is a historical landmark and a must-see for visitors. It has been renovated into a museum that tells of its unique history. Visitors of all ages are welcome to experience the lighthouse and learn about the stories surrounding it. School and group tours are also offered. Additionally, there is lots of available parking here as well.
5. Fort Frederica, an important military outpost, is still standing today.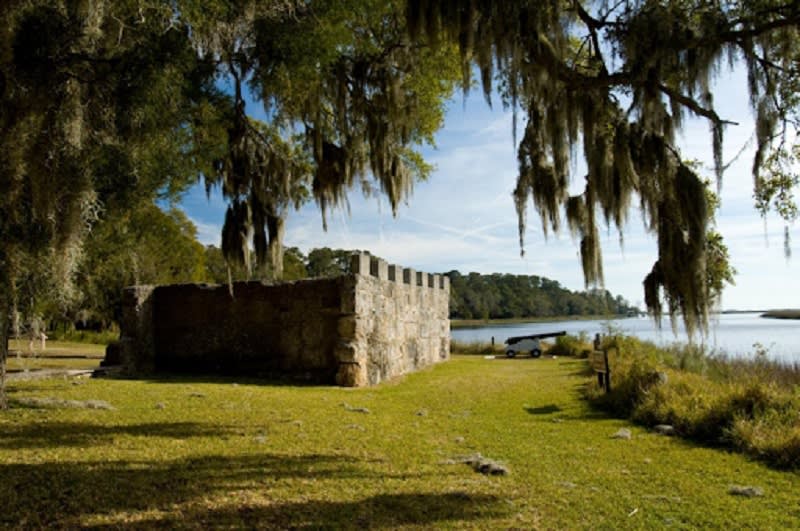 Because of the brewing conflict between the Spanish and the English in Georgia, General James Edward Oglethorpe commanded
Fort Frederica
to be built to protect against Spanish raids. The Fort became the English's military headquarters in the area. It served as a fierce deterrent and defense against any sign of battle.
Named after Prince Fredrick Louis of Wales, the fort included a settlement of colonists, a rampart, and a surrounding palisade ditch for added protection. Since it could not depend on only itself for resources, General Oglethorpe expected every able-bodied person living within the walls of the fort to contribute and earn their keep. Everyone was expected to be a part of the community by providing for its welfare. However, the fort eventually failed for monetary reasons. It could not quite keep itself afloat and, therefore, floundered.
Years later, Oglethorpe returned from England with another batch of soldiers. After years of conflict, war with Spain erupted. Fort Frederica provided a much-needed defense in those tumultuous times. A Peace Treaty between England and Spain was signed in 1748. Since the fort was no longer needed for military purposes, the troops left and were sent to other places. Without the military presence, many of the colonists moved away as well.
What remains of Fort Frederica today resembles little of the once-thriving military outpost. However, it still tells the vivid story of what happened all those years ago. Fort Frederica is a national monument and is open daily to visitors. During a visit here, you can stop by the Visitor's Center for an informational pamphlet, read the displays, and learn about colonial life during the era.
6. The Isles put together a concentrated World War II effort.
With a potential involvement in World War II on the horizon, the residents of the Isles gathered together and worked to contribute towards winning the war effort. The
World War II Front Museum
, located near the St. Simons Lighthouse, tells these amazing community members' exciting and intrepid stories.
Not only that, it portrays the experiences of many Americans during those days and what life was like for them. In the museum, scenes and rooms are recreated from the period to provide a life-like experience. Visitors can read the informational displays and learn about buying wartime bonds, what it was like to experience a blackout, and much more.
7. The Golden Isles are home to the elite Jekyll Island Club.

Credit: Jekyll Island Club
There are many national historic landmarks on the Golden Isles. One of the most famous of them is the
Jekyll Island Club
. This popular and wealthy club was established in 1886 as an upscale winter retreat for the most select guests. It was incredibly exclusive and, therefore, rapidly became an extremely sought-after club to join.
Because of its pristine and private location, the Jekyll Island Club served as the perfect place to get away from the hustle and bustle of life. While here, the elite and famous members socialized extravagantly. They enjoyed leisurely days of delicious food, entertainment, and a variety of outdoor sports.
Located, of course, on Jekyll Island, this club gained a large following and became a hotspot for the upper class. There are also several exquisite mansions, villas, and cottages on the island preserved as must-see historical sites.
8. Major ships were built on the Golden Isles to assist in World War II.
Located in Brunswick, Georgia, the
Liberty Ship Yard
built 99 ships to aid the World War II effort. Each of these ships was 447-feet long and used to move supplies and resources across the ocean to the troops.
One of the shipyard's most incredible and heroic feats occurred when they hurried to meet the Navy's need for six ships and chose to make seven ships. The residents of the Golden Isles displayed profound courage, selflessness, and collaboration in aiding the war effort. Visitors are welcomed to tour the area and learn all about the historical shipyard.
For more information regarding Golden Isles real estate, contact
Victor Long
. He will be able to answer any questions you have.