You have picked the county you want to live in, but now you need to choose the area. How do you know what is the right fit for you? Luckily, this guide breaks down the different regions in Glynn County, Georgia, to help you decide which community is perfect for your new home.
Brunswick
Brunswick serves as the county seat for Glynn County, and it is the second-largest area on the coast side of Georgia. Initially founded in 1771, the city has a rich history and diverse culture that still exists today. Its beautiful coastal scenery brings gorgeous views and incredible sunrises, and it has fantastic weather ranging from an average temperature of the low 90s in the summer and the high 50s in the winter.
The public school system in Brunswick is highly rated, with a student-teacher ratio of 11:1. The city has 10 elementary schools, 4 middle schools, and 2 high schools; it also has several private schools as well. It is home to the College of Coastal Georgia, which offers bachelor's degree programs in education, business, and nursing sciences and other associate degree programs designed to prepare students to transfer to more senior universities. The area has an arts and theater scene, including a symphony, two theaters, and a number of art galleries. It also has excellent sports programs for various ages leading up to high school and college, namely football.
The city has amazing natural areas to visit and spend your day in. Brunswick is home to numerous parks and six original squares. There is also Brunswick Old Town Historic District which features architecture throughout the older decades and has a ton of cultural opportunities throughout.
There are tons of restaurants with various cuisines within the city, but the main thing it is known for is its seafood and what is known as Brunswick stew. The stew is tomato-based with various vegetables and meats within it; traditionally, it is made with rabbit and squirrel, although nowadays you are more likely to find chicken, pork, and beef.
Brunswick has a small airport and two railway lines. However, public transit is not as prominent in this area, so you will still want to own a car to be able to get around. If you want to live in a suburban town with a lot of history and somewhat of a city feel, then Brunswick is the right fit for you!
Jekyll Island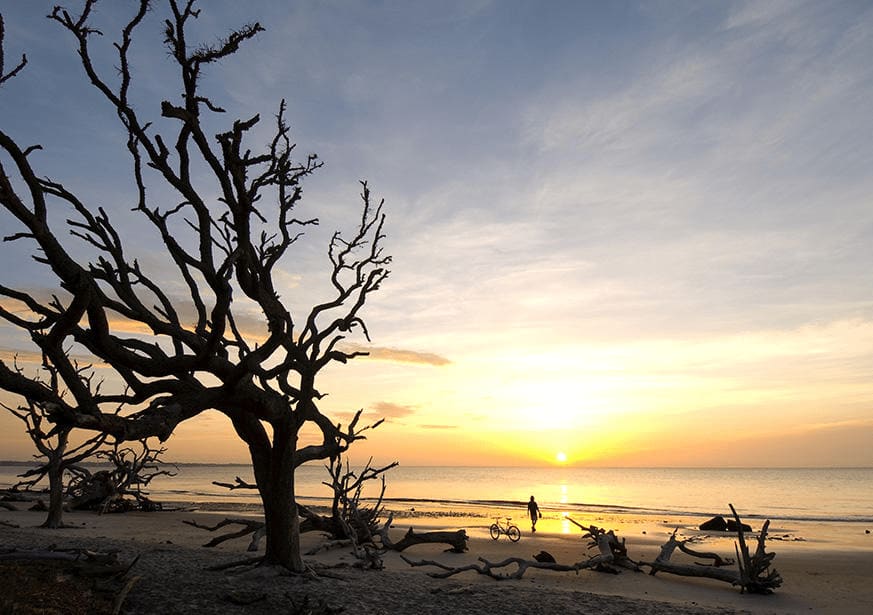 Image courtesy of Golden Isles
Jekyll Island, located off the coast of Georgia, is a sea town that Architectural Digest named in 2018 as one of the 50 most beautiful small towns in America. With only 5,700 acres, it has a small population of about 1,000 people that gives it a tight-knit community feels. Its gorgeous beaches, beautiful weather, and a plethora of things to do make it a popular tourist destination.
There is an abundance of things to do on the island, especially if you want to be outside in the natural surroundings. There are, of course, the white sandy beaches, acres of golf courses, tennis courts, a fishing pier, dolphin tours, horseback riding, bike and hiking trails, nature centers, and a water park. The possibilities are endless, and the activities range from solo to family-friendly adventures, so there is always something to do no matter what. You will be able to spend endless hours touring the island experiencing all the nature and wildlife it has to offer.
The island is also home to two signature events. The Turtle Crawl has been hosted on Jekyll Island since 2003 and supports the Georgia Sea Turtle Center's mission for sea turtle rehabilitation, research, and education. They also host the Jekyll Island Shrimp and Grits Festival, featuring a cook-off, craft beer fest, arts and craft vendors, live entertainment, and a kid-friendly zone. These two events are essential for the island's economy, bringing in tourism and vendors to give back to the community. They are also great bonding times if you are new to the island and looking to start becoming integrated into the community.
There are no schools on the actual island, and for most entertainment needs, you will need to travel to another spot; there are three zoned schools that are included for education. If you are looking for a place to relax and enjoy the gifts the earth has to offer and not feel like you are in a city or surrounded by noise and technology, this is the perfect spot for you!
St. Simons
St. Simons or St. Simons island is a coastal area and the largest island on our list, with a population between 12,000 and 13,000 people. The island hosts permanent residents and part-time residents that come for specific seasons of the year. The island has a wide variety of plants and wildlife from both land and sea.
The island also has had an essential part in numerous events throughout American history and offers a look into the culture of the different time periods. St. Simons is big in tourism, especially during the spring and summer months, and it is a popular wedding site as well. This is one of the larger islands in the Golden Isles of Georgia, and it does house a small airport.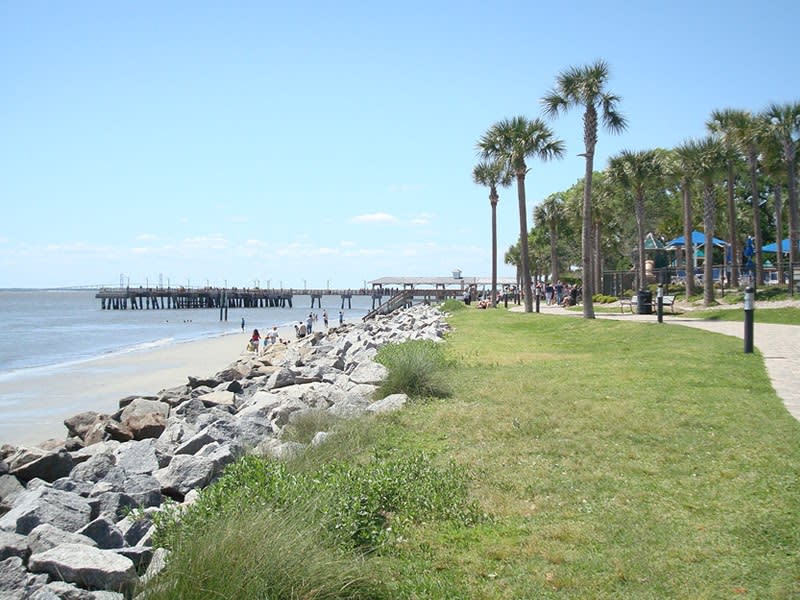 Neptune Park, Credit: St. Simons Island
Much like Jekyll Island, there are tons of outdoor activities to take part in throughout the year, including golf (home to six gorgeous courses), water sports, fishing, sailing, hiking and bicycling, bird watching, and more. There is also a park called Neptune Park, next to the pier, that features a "fun zone."
There are two public schools and two private schools on the island. The public schools are kindergarten to 5th grade, and one of the private schools is a kindergarten to 12th grade, while the other is a kindergarten to 8th grade. You will need to travel off the island for other schools, for which three zoned schools participate.
This is a great place to live if you love interacting with nature yet still have some city life. You won't have to be bogged down with too much traffic or congestion, but also not feel too isolated and away from everything. It is an excellent resource for families where you can have the small-town feeling of knowing your kids are safe, but they will still have plenty of activities around to keep them entertained.
Sea Island
Sea Island is a privately owned, unincorporated area and is a major tourist destination. It sits on the coast of Georgia. The island has a great community feeling and serves as an escape for the large cities. You won't have to worry about loud noises or cars keeping you awake. Instead, you will be filled with the crashing waves and salt air to lull you to sleep.
It has a rich past that includes hosting President Calvin Coolidge in 1928, who planted a tree to celebrate the occasion, which has now become a local tradition. Other notable people who have planted trees since are Gerald Ford, Jimmy Carter, Queen Juliana of the Netherlands, President George H.W. Bush, Prime Minister Margaret Thatcher, Prime Minister Tony Blair, Bill Clinton, and President George W. Bush.
The island also hosted the 2004 G8 Summit that was attended by many notable leaders from around the world to discuss issues ranging from peacekeeping operations, HIV/AIDS vaccine development, famine relief, debt reduction, and the eradication of polio. The island was selected because its relative isolation provided the security necessary for a gathering of this extent.
Golf is a significant part of the culture on the island and is a large part of its economy as well. It features two premier amateur tournaments, The Walker Cup and the Jones Cup. All of these events help the economy of the island immensely by bringing in tourism and vendors.
The island does not have any schools on it, so you would need to go to St. Simons or mainland, Brunswick, for those. There are three schools in zoned areas that your kids could be enrolled in.
If you are looking for a magical secluded getaway that allows you to have peace and relaxation, this is the perfect spot for you.
Contact Victor Long to set up an appointment if you are interested in Glynn County homes for sale, including Sea Island real estate and St. Simons real estate.