Situated along Georgia's Atlantic coast, four barrier islands and the mainland city of Brunswick define the beautiful Golden Isles—a luxurious destination of natural beauty. Breathtaking marshlands and miles of sandy beaches create this magical paradise, and with a subtropical climate of hot summers and mild winters, you'll never want to leave.

In the Golden Isles—whether you are on St. Simons Island, Sea Island, Jekyll Island, Little St. Simons Island, or Historic Brunswick—there's something for everyone to enjoy. In the summer months, the activities become endless, and you can create the experience of a lifetime. Whether it's golfing on one of the hundreds of holes, visiting history-rich museums and landmarks, or soaking in the scenery, you'll never experience a dull moment in the Golden Isles.

Summer-Specific Must Do's
The summer months in the Golden Isles are truly something special. Read on to learn more about the specific events and must-see attractions on the islands during the summertime.



Source: Golden Isles Magazine
Golden Isles Arts & Humanities
Starting Memorial Day weekend, the Golden Isles Arts & Humanities Association puts on a summertime concert festival known as "Sounds by the Sea" to showcase some of the Golden Isles' best local talent. With performances all throughout the summer, everyone is encouraged to bring a blanket, lawn chair, and food to enjoy the music and outdoors. For admission to "Sounds by the Sea," purchase your ticket online in advance or at the gate for an extra fee.

Downtown Brunswick First Friday
On the first Friday of each month, take an evening stroll along Newcastle Street in Brunswick's downtown district to support local businesses like art galleries and boutiques. Enjoy live music as you make your way through the Signature Squares, and stop along the way to sample food and beverage from local vendors.

Sunshine Festival
The St. Simons Sunshine Festival is a longstanding tradition in the Golden Isles near St. Simons islands Real Estate that showcases local artisans and their work, typically around the 4th of July. It is complete with daily entertainment, amusement park rides, food, and a variety of crafts for purchase. With free admission, feel free to spend the whole weekend at the Sunshine Festival, gorging yourself on delicious carnival food while supporting local artists. For July 4th, partake in the Sunshine Festival 5K and 1-mile run, and at night, roll out your picnic blanket to enjoy the fireworks along Neptune Park.


Island Tours
For Golden Isles residents and newcomers alike, the Golden Isles guided tours are not one to miss. With so many tours happening around the island, there's always something to do and see. If you are looking for a laid-back and educational experience, consider a birding tour. Move along Georgia's Colonial Coast Birding Trail and witness more than 300 species of birds, and ask any questions that may arise from your tour guide.

For something a little more adventurous, experience Jekyll Island on a segway tour or get out on the open ocean for a dolphin tour. Experience the paranormal side of St. Simons Island with the Ghost Walk of St. Simons, where you will learn of suspicious murders and mysteries, as well as venture into a haunted lighthouse. On the Golden Isles, you can complete a tour every day of the week.

Movies on the Green
On Jekyll Island, bring your lawn chairs and blankets to watch family-friendly movies for an oceanside experience free of charge. For three years, Jekyll Island has hosted a beachfront movie series throughout the summer and fall, and with movies both old and new, there's something for everyone.

If you want dinner and a show, browse several retailers and dining options before the movie starts. Open to guests of all ages, make sure to come to set up early, saving your spot for the show.

Historical Facts and Attractions
The Golden Isles are full of history just waiting to be explored! We've compiled a list of the historical must-sees and must-know for the islands below.


Source: Coastal Georgia Historical Society
Coastal Georgia Historical Society
In 1965, a group of ten citizens formed the Coastal Georgia Historical Society to preserve the Golden Isles' early coastal heritage. They help preserve the artifacts and buildings of Coastal Georgia history, driving tourism heritage to the islands.

Not only does the Society vie for the preservation of cultural heritage, but they also help in the restoration and maintenance of such properties and artifacts. They helped with the restoration of the St. Simons Lighthouse Museum and the World War II Front Museum.

WWII Museum
In the World War II Home Front Museum, explore how Coastal Georgia played a role in winning World War II. Learn what happened with several oral histories throughout the museum, and fully immerse yourself in the exhibits with interactive displays. For all ages, the WWII Museum is perfect for an afternoon alone or to bring the entire family along.

Lighthouse Museum
Step into the magnificent St. Simons Lighthouse Museum, and discover the fascinating history of Coastal Georgia through historical photos, interactives, and exhibits of rare artifacts. Learn of the lighthouse's navigational significance in the pre-and-post Civil War era and why it was important. On the second floor of the Dwelling, discover what it was like for some of the last working lighthouse keepers and their families.

Trolley Tours
If you're a resident or just visiting, every Golden Isles experience is complete with a historic trolley tour. Travel along St. Simons Island to see historical landmarks and learn what makes the Golden Isles so special, from the stories and legends to the people.

If you're visiting Jekyll Island, transport back in time to the late 1800s and take the Landmark Historic Trolley Tour. On it, you will learn how the Jekyll Island Club was crafted into an exclusive retreat for America's richest families, with members such as Joseph Pulitzer, William Rockefeller, and William K. Vanderbilt.

Golf in Golden Isles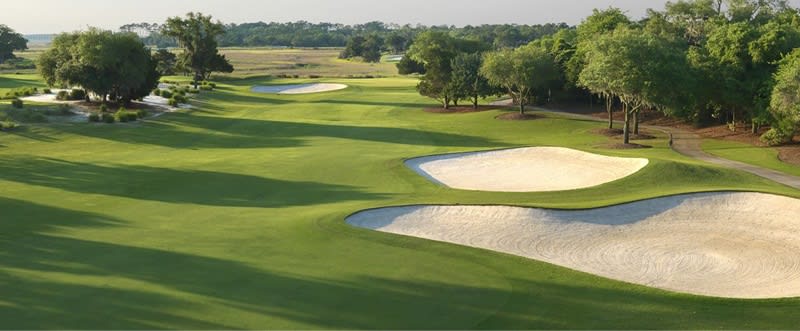 Source: Sea Island Golf Club
The Golden Isles aren't merely known for their breathtaking views and sandy shore. It is also home to some of the country's best golf courses. Some of the world's greatest course designers have built challenging courses for both hobbyists and professionals, with designers such as Clyde Johnston, Reese Jones, and Tom Fazio. Be sure to take advantage of the world-class golf the Golden Isles provide, with 189 holes spread across the mainland and the islands.

In the subtropical temperatures, enjoy all-year-round golfing and magnificent views at every turn. Golf at the 18-hole The King and Prince Golf Course on St. Simons Island or the Jekyll Island Golf Club if you are on Jekyll Island. With both 9-hole and 18-hole play, Jekyll Island Golf Club is Georgia's largest course.

For individuals looking to golf at a more exclusive course where facilities are private to the public, check out the Brunswick Country Club, which is considered one of the top golf courses in Georgia. For the best overall golf experience, take a look at the Golden Isles insider guide: 4 Quintessential Golf Experiences in the Golden Isles.

The Golden Isles has so much to offer, from their sandy beaches to world-class golf courses. If you are looking to sell or buy a home, feel free to reach out to Victor Long today. He would love to help you find the home of your dreams.



Cover image credit: Golden Isles Georgia